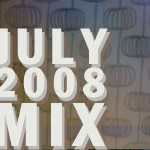 This mix is best served on a lazy Saturday afternoon. Rain for the first half is desirable but not essential.
Also appropriate for: driving to get dinner, Friday at 7pm, a trip to the book store, walking your dogs at dusk, dawdling and napping on the couch.
The Skygreen Leopards – Places West of Shawnapee
Bowerbirds – Hooves
Grouper – Heavy Water / I'd Rather Be Sleeping
Faunts – Memories of Places We've Never
Pelican – City of Echoes
Stereolab – Silver Sands
Deerhunter – Never Stops
Parts & Labor – Fractured Skies
No Age – Sleeper Hold
The Submarines – Swimming Pool
Voxtrot – Long Haul
Download July 2008 Mix (62.3mb)
When I first uploaded this, the Faunts track was missing. It's now in the zip file, or you can download it individually.